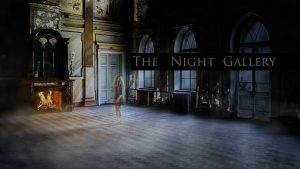 Unfortunately, there will not be a Night Gallery 2020, due to Covid-19 restrictions. We hope that this will be over in time for next year and we can then come together safely for a glorious night of macabre wonders and art! Stay safe and we hope to see you all next year!
Night Gallery 2019
Bleedingham Film Festival and Film is Truth invite you to dust off those cobwebs and come kickoff the Halloween weekend with us at The Night Gallery! We're bringing together a delightfully macabre gathering of artists, crafters, writers, ghost hunters, and more for one night only at The Majestic in downtown Bellingham on Oct 25, from 5-10pm! 
This event is free to attend, but donations are appreciated! Donations help us pay for some costs of the event and anyone who donates will get a raffle ticket to win cool prizes! 
So slither on over and get scary with us as we celebrate in a swanky ballroom! Inside you will find creepy art, decor, and accessories to fulfill your dark side, maybe win some prizes, check out some filmmaking panels and enjoy spooky entertainment throughout the evening! 
Do you love ghost stories or want to learn about the dark side of Bellingham's local history? The Good Time Girls – Bellinghistory Tours will be starting one of their deathly popular Gore and Lore tours from the Night Gallery! The tour will be discussing the dark history of Bellingham's old Sehome neighborhood. Bellingham's State Street was once the main drag of the little town of Sehome – built around a coal mine. The area has more than it's fair share of creepy stories and local lore perfect for the spooky season! Tickets are limited, so if you're up for some scary local stories, get them before they're gone!
If you get hungry, Bellingham's best BBQ, Danielle's Back East BBQ, will also be there with their amazing grub!
Vendors:
Tarot with Ginny
Bright Phoenix Designs
The Creativity Works
Filmmaking Panels:
6pm – Guest Panel: Making a Feature with
They Reach
creators, Sylas Dall & Bry Troyer
7pm – Guest Panel: Special Effects Artist,
James Fairley
will share insight on industry professional practical effects!
8:30pm – Guest Panel: Screenwriter John Lovett presents SCREAMwriting 101
 

Entertainment:

Your GOREgeous hosts for the evening will be Bellingham's own BF Knowhere and Ashley Allure!
DJ Cold/love will be there spinning gothic and macabre tunes to ease your troubled soul.
With Frightening Performances by: