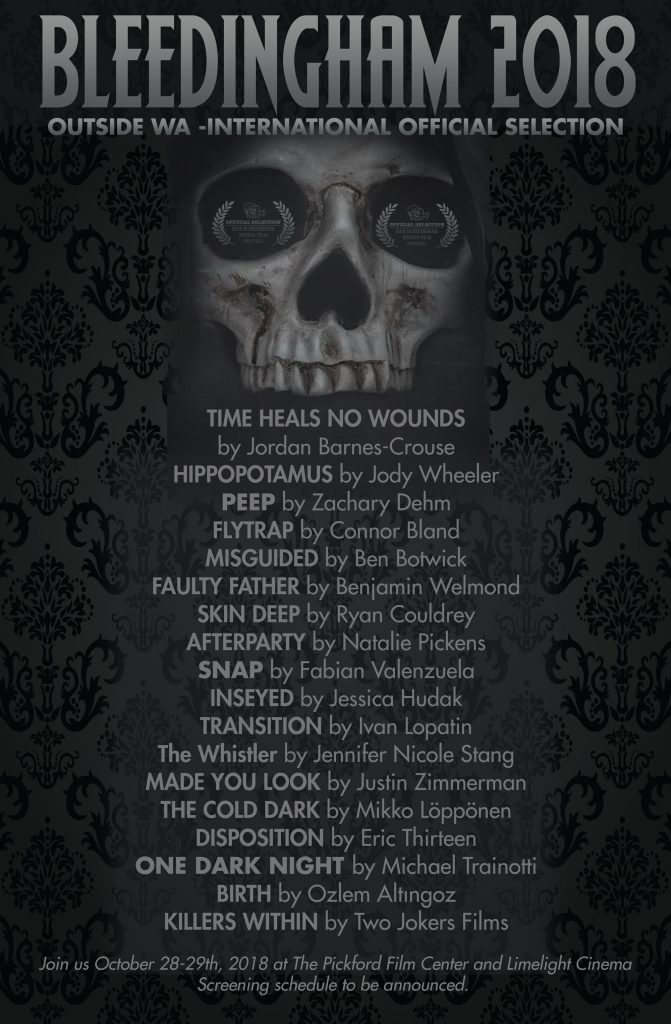 --- Bleedingham is proud to announce it's
Outside WA/International Official Selection!
We have quite the selection of films this year for the horror fan!
Demons, Robots, Illuminati Lizard People,homicidal maniacs,
and just about every other creature of the night you can think of
is tucked away here.
.
---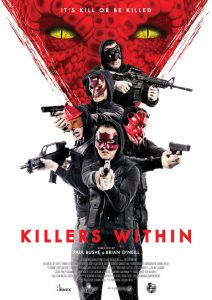 KILLERS WITHIN by Two Jokers Films
With her son being held captive by a criminal gang, police-officer Amanda Doyle, together with her ex-husband and three unlikely allies, takes part in a desperate plot to hold a wealthy banker and his family to ransom.
But this is no ordinary family and as the story unfolds it becomes clear that the hunters have become the hunted. It's a fight for survival – It's kill or be killed.
---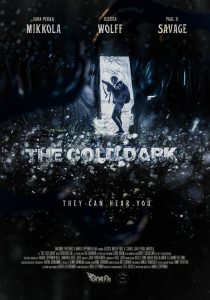 THE COLD DARK by Mikko Löppönen
Erica wonders off into the dark to search for medicine for her wounded father. As she rummages a cabin she stumbles upon two men who grant her cover for
the night… but something outside is listening.
---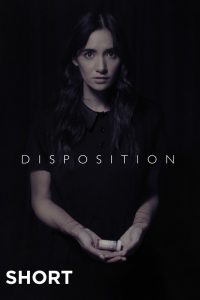 DISPOSITION by Eric Thirteen
A woman stalked by depression makes some extreme decisions.
---
ONE DARK NIGHT by Michael Trainotti
Dad spins a decades old tale during a family campout.
---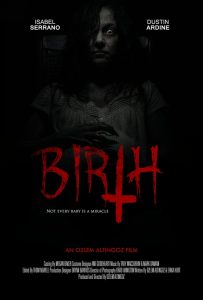 BIRTH by Ozlem Altıngoz
Years ago, in the basement of the Ravencrest Hospital, a deal was made to spare the life of a young child.  In exchange for his life, he must give up the soul of his first born, and the time has come for that price to be paid.
---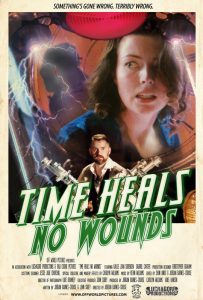 TIME HEALS NO WOUNDS by Jordan Barnes-Crouse
Toiling away in a makeshift lab, Dr. Barry Slater has finally made a breakthrough: THE CHRONOSPHERIC RE-OSCILLATOR, a device able to transmit artifacts across time. But when he materializes a recording from his future self, he decides to become his next test subject, despite the cautioning of his young wife Georgina. When the experiment goes awry, Georgina suddenly finds herself transported to another time, and the man resembling her husband may no longer be who, or what, he seems.
---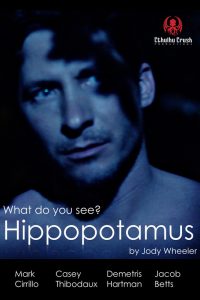 HIPPOTAMUS by Jody Wheeler
Left alone to caretake a gay nude resort closed for the season, a man finds himself confronted by what he can see and by what he can't. When everything is visible, when nothing is hidden, it's not just about what you see. It's also about what sees you.
---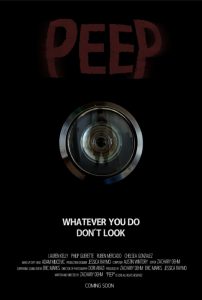 PEEP by Zachary Dehm
A young woman is stalked by a mysterious figure that can only be seen through her peephole.
---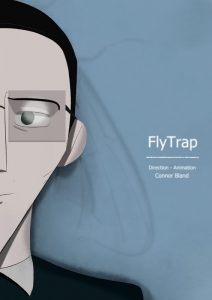 FLYTRAP by Connor Bland
Charles falls into a germaphobic hysteria living under the unsanitary habits of his roommate. Narrated by the protagonist, we witness his petty yet paranoid reality unfold as he delivers a confession email to his unreliable advisor, Mr. Waters
---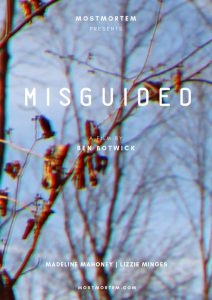 MISGUIDED by Ben Botwick
An aspiring actress wanders too far into the woods during a guided meditation.
---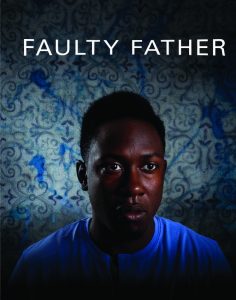 FAULTY FATHER by Benjamin Welmond
In the near future, a young father's morning routine is put on the fritz when he uncovers his wife's bizarre secret, one that forces him to question his sense of self and his role in the family.
---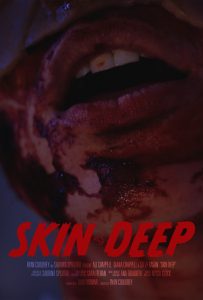 SKIN DEEP by Ryan Couldrey
A pastry shop owner tears herself apart to catch the eye of a customer… An absurdist parable about impossible beauty standards meets Face Off
(served with a delicious croissant with just
a smidgen of blood on it).
---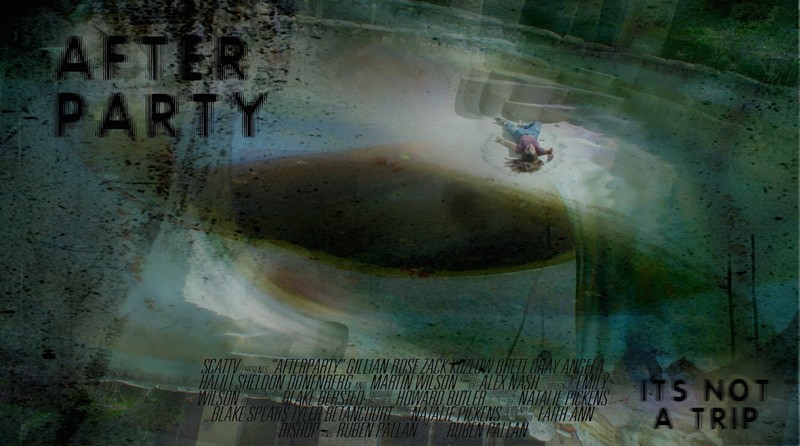 AFTERPARTY  by Natalie Pickens
Girl wakes up in a empty pool at an abandon house unable to remember the night before. As her memories come back to her she discovers a dark truth.
---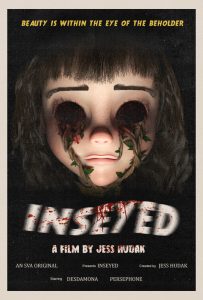 INSEYED by Jessica Hudak
A girl hears a mysterious noise and investigates, but the source isn't an easy answer.
---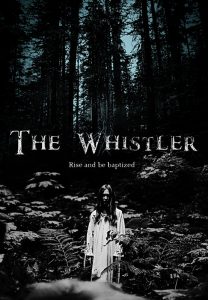 THE WHISTLER by Jennifer Nicole Stang
Lindsey is forced to babysit her sister, Becky, one night, when, after innocently falling asleep, wakes up to find her sister gone. Someone may have taken Becky and could be after her as well…
---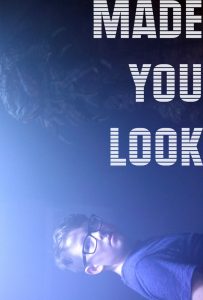 MADE YOU LOOK by Justin Zimmerman
A boy. A garage. A monster.
In the film MADE YOU LOOK, nothing is as it seems. Better keep your eyes wide open! Written and directed by Justin Zimmerman, featuring special effects by Academy Award-winner Chris Wales, and co-written by and introducing Kian Doughty, MADE YOU LOOK is simply spooky fun!
---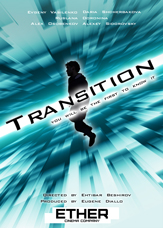 TRANSITION  by EHKTIBAR BESHIROV
Engineer-constructor creates a simple and fundamentally new technology of moving in space and time, but encounters a lack of understanding of the leadership and mockery of colleagues. This pushes him to experiment alone. But at the very moment when he had already made the coveted "jump", one of the employees, not believing in the very possibility of moving, turns off the equipment set up by him.
---
SNAP by Fabian Valenzuela
A young lady gets a series of video messages from a complete stranger.
The story takes a a bad turn once she finds out that the person is in the same building leaving random gifts at her doorstep.