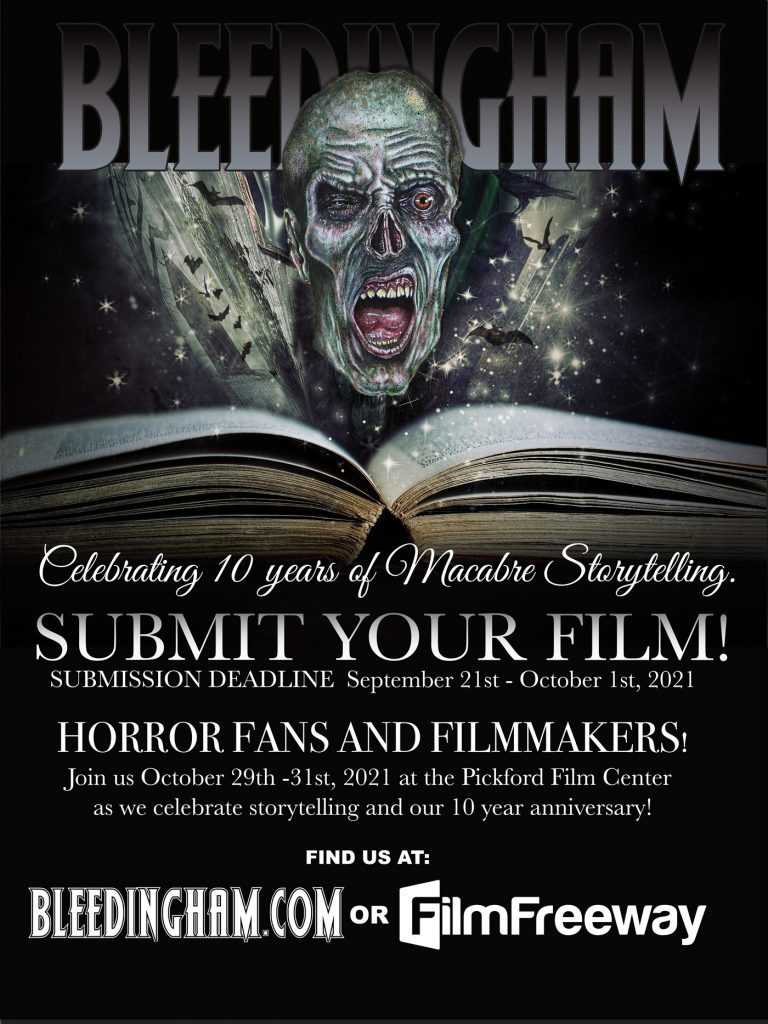 10 years ago we had this idea that we wanted to create a storytelling space for people who liked horror movies…
The tenth year of the Bleedingham Film Festival is one of reflection and resolve.
Over the years we have done our best to accomplish one mission:
To provide a platform for filmmakers can receive accolades from their peers while having their work judged by an invested community that has strong ties to the art of storytelling.
On a local level, we still haunt the Pickford Film Center on an annual basis and award trophies to those who score accordingly.   We've also opened our submissions over the years to rest of world.
The result of this , is a strong community of filmmakers and horror fans that is  tightknit and inclusive and we are proud to call you all Bleedingham family.
The pandemic has definitely taken its toll on how we interact, but pivoting has only strengthened our resolve to maintain a space for filmmakers who enjoy telling a more macabre tale.
So with that being said, we are proud to announce that we will be screening in physical capacity this October at the Pickford Film Center again!
(Provided that it is safe to do so as determined by the WA department of Health)
Still safety is paramount, and for that reason we will all make the Festival and the award ceremony available via virtual screening rooms in addition to our physical screenings.
Like any good horror movie , the bottom of this could fall out and by winter we could all be in isolation again.  If it does, we will be ready and will still bring the thrills and chills this Halloween season!
Another big announcement for us this year is that we have opened a Student category for with its on set of awards and grand prize. We started out of Western Washington University  and  we never want to stray too far from our roots as students of the craft.  Stay  tuned for more details on this front as well.
Last but not least, we have added the last 3 years of entries who gave our permission to screen on YouTube to our archives and over 50 films are now available for viewing! Simply go to our website's PREVIOUS ENTRIES page and stroll through our hallowed archives.
So wit out further  adieu, Welcome to the 10th season of the Bleedingham Horror Film Festival!
 CLICK HERE TO SUBMIT YOUR FILM
P.S. for those who don't know, we got our name Bleedingham as a play on the name of the town we live in Bellingham. Bellingham boasts one of the most amazing film communities of cinephiles and filmmakers alike and we are proud to call this place home.