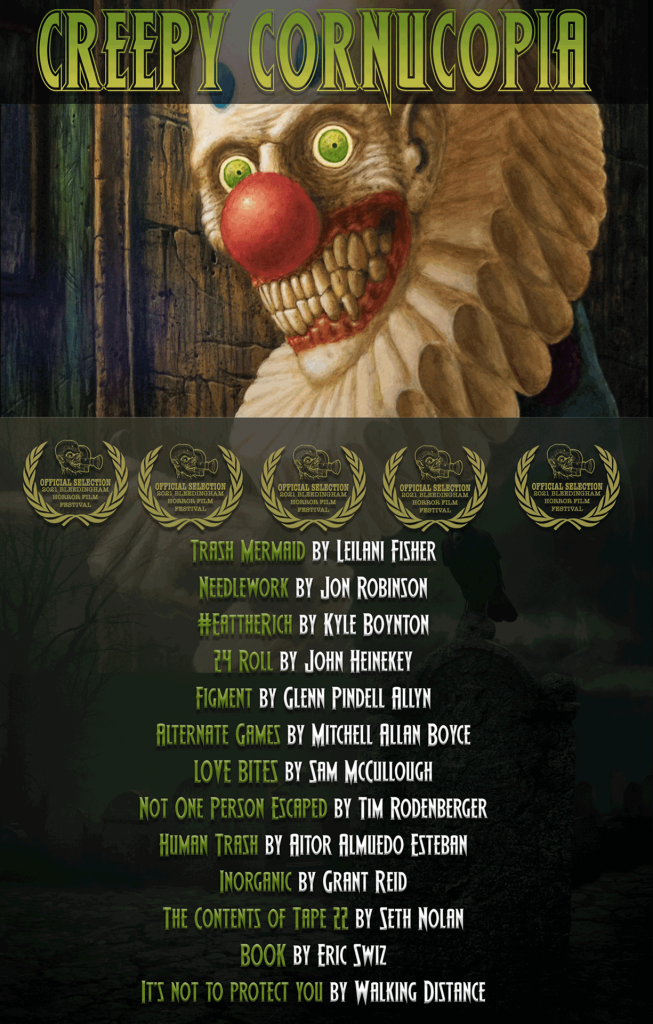 Creepy Cornucopia
Bleedingham presents this year's Creepy Cornucopia, an eclectic mix of local horror and more out of state/international top films, plus, featuring the winning 5 minute film challenge horror short!
---
Needlework

 
Directed by: Jon Robinson
A needle worker is toiling away when his world collides with that of an unknown darkness.
---
Human Trash
Directed by: Aitor Almuedo Esteban
A boy is thrown into a trash container from the future. In his frantic search for the exit, he runs into a mysterious man, who will make him doubt the origin of his own existence.
---
Figment 
Directed by: Glenn Pindell Allyn
A well-meaning warlock creates a potion to heal the oceans; however, it gets flushed down the toilet by maintenance before the final ingredient is added, thus polluting all of Bellingham Bay, along with the rest of the world's seas.
---
Inorganic 
Directed by: Grant Reid
When a man attempts to outperform a machine by replacing it, he finds the line between man and machine is blurred.
---
The Contents of Tape 22 
Directed by: Seth Nolan
---
Not One Person Escaped 
Directed by: Tim Rodenberger
When personal tragedy strikes, Dr William Ashby goes to great lengths to find peace, but does he have the resolve to make the difficult choice when faced with a critical decision?
---
#EattheRich 
Directed by: Kyle Boynton
Moonshadow Jones, a "renowned" virtual healer, has finally decided to join the 2020 presidential election, using a platform he believes has wide appeal.
---
Alternate Games
Directed by: Mitchell Allan Boyce
A heartbroken young man thrift shops an old walkie talkie in which he finds written instructions for a ritualistic radio game gambling his life in exchange for his lovesick memory erased.
---
LOVE BITES
Directed by: Sam McCullough
A young women goes out for a night of fun on the town. When she comes home, she has a mysterious love bite on her neck. Shrugging it off, she under goes a drastic change over the next few days.
---
24 Roll
Directed by: John Heinekey
A nature lover goes on a camping trip with only herself and her camera. But after her roll of film is developed she finds a disturbing secret in the photos…
---
Book
Directed by: Eric Swiz
When her best friend turns to her for help, a reluctant Gemma shares her darkest and most powerful secret. This was a mistake.
---
Trash Mermaid
Directed by: Leilani Fisher
A prisoner seeks escape in this indie horror/dark comedy stop-motion short, featuring original tracks by Depth Hoar.