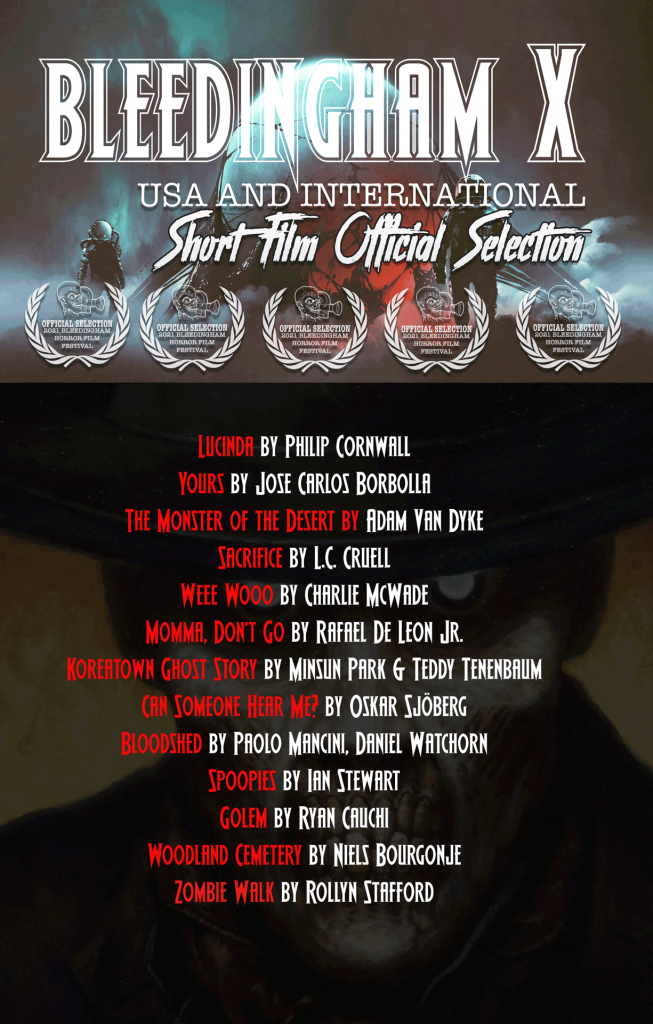 2021 USA AND INTERNATIONAL SHORT FILM OFFICIAL SELECTION
Bleedingham presents a terrifying selection of the best of out of state and international films.
These films can only be seen in the festival circuit, so this is your chance to get a taste of scary tales from all over the world in one thrilling block!
---
Lucinda
Directed by: Philip Cornwall
The line between the real world and dream world is blurred when a man is struck with sleep paralysis.
---
Yours
Directed by: Jose Carlos Borbolla
Brenda gets an unexpected visit from a stranger that changes her life and the lives of her loved ones forever.
---
The Monster of the Desert
Directed by: Adam Van Dyke
On Halloween night, a devastated woman with plans to end her life keeps being interrupted by some commotion outside. Pushed to the edge, she faces this disturbance head on, only to walk right into her worst nightmare.
---
Sacrifice
Directed by: L.C. Cruell
It's about love, the terrible power of love.
---
Weee Wooo
Directed by: Charlie McWade
A young woman wakes in the dead of night to a world devoid of sound. Yet, through the silence, she hears a mysterious call that draws her deep into the dark woods…
---
Momma, Don't Go
Directed by: Rafael De Leon Jr.
A mother and daughter struggle to survive a deadly home invasion.
---
Koreatown Ghost Story
Directed by: Minsun Park & Teddy Tenenbaum
In this supernatural horror tale based on a Korean ritual starring Margaret Cho and Lyrica Okano, a woman entertains a macabre marriage offer that would let her pursue her dreams, for better or for much much worse.
---
Can Someone Hear Me?
Directed by: Oskar Sjöberg
Miller, a radio operator living in a pandemic containment radio station, who while on the radio with another station's operator, finds out that one of his colleagues is infected and their significant other wants to keep it a secret within their underground bunker. As their colleague's condition worsens rapidly and the other station operator becomes more suspicious about their claims of everything being fine, Miller finds himself needing to choose between loyalty to his friends or securing his own survival.
---
Bloodshed
Directed by: Paolo Mancini, Daniel Watchorn
Ridden with guilt after the untimely death of his wife from a rare blood disease, grief-stricken Getty turns his hobby shed into a bloody altar of worship and brutal sacrifice in his relentless search for Redemption. As he descends into madness, many will bleed…
BLOODSHED. It's where you bleed.
---
Spoopies: Ian Stewart
The animated retellings of four of the lamest real-life ghost stories ever recorded.
---
Golem
Directed by: Ryan Cauchi
Nazi-occupied Prague, 1939. A group of German soldiers search for a fugitive Rabbi in the basement of an abandoned synagogue – unaware of the horror awaiting them.
---
Woodland Cemetery
Directed by: Niels Bourgonje
A photographer has the assignment to shoot Skogskyrkogarden, a cemetery located in the woods of Stockholm. There she sees an old woman placing a lantern on a grave. When the photographer shoots a picture of this very private moment, she soon finds out that this haunting image is more haunted than she bargained for.
---
Zombie Walk
Directed by: Rollyn Stafford
A guy takes his zombie for a walk through post apocalyptic Downtown Portland, Oregon.
---