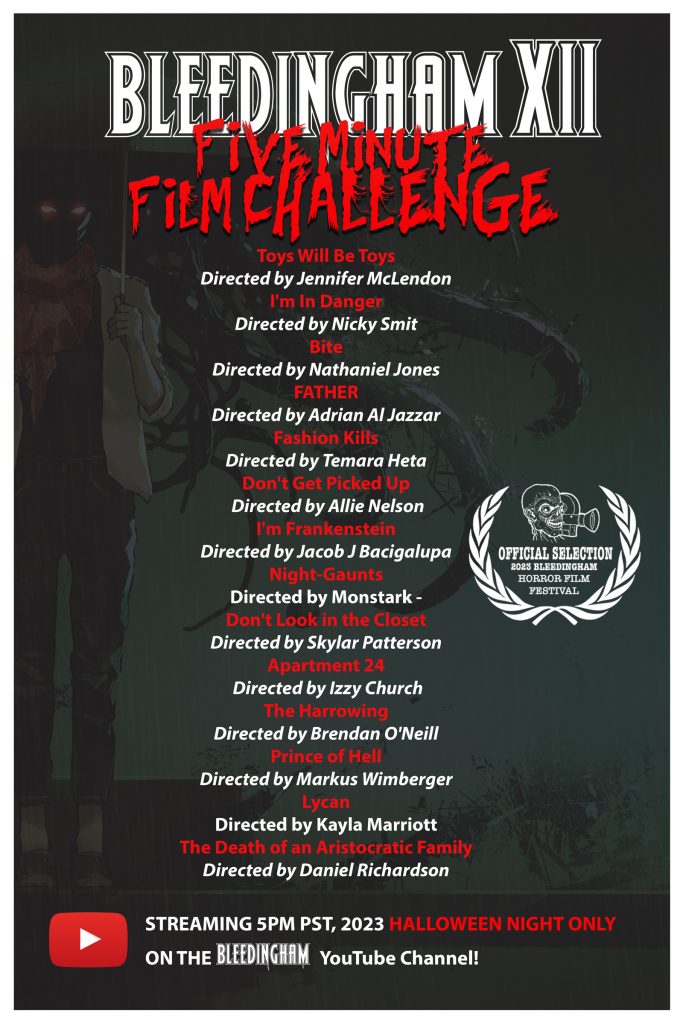 ---
Toys Will Be Toys
Directed by Jennifer McLendon
Two guys must face their inner most fears when a toy comes out to play.
---
I'm In Danger
Directed by Nicky Smit
As a young woman wakes up to find herself kidnapped and restrained, will she have what it takes to escape from her kidnappers?
---
Bite
Directed by Nathaniel Jones
An unexpected way to become a vampire.
---
FATHER
Directed by Adrian Al Jazzar
The film symbolizes family abuse.
---
Fashion Kills
Directed by Temara Heta
Rachel a fashion student encounters an evil presence in her house while doing her studies what will happen to her?
---
Don't Get Picked Up
Directed by Allie Nelson
A woman doesn't pick up after her dog which angers the aliens.
---
I'm Frankenstein
Directed by Jacob J Bacigalupa
A music video about electrified Frankenstein
---
Night-Gaunts
Directed by Monstark 
A traveler is snatched away on a monstrous voyage in this handmade puppet horror film based on the poem by H.P. Lovecraft.
---
Don't Look in the Closet
Directed by Skylar Patterson
After spending a debaucherous night out, Tommy arrives home to find his wife missing… and an evil presence lurking about.
---
Apartment 24 
Directed by Izzy Church
Katherine finds an ad for a "too good to be true" apartment and checks it out. She meets with the "real estate" agent, played by Jacque, who has been luring girls back to the apartment. Inside apartment 24, we see Aislinn gagged and tied up. But Jacque is not a simple predator; the night-shift abductor who once lived in apartment 24 has possessed Jacque's body and is using him to continue his rampage.
---
The Harrowing
Directed by Brendan O'Neill
A woman tries to save her children from mysterious alien spacecraft that have appeared over cities worldwide.
---
Prince of Hell
Directed by Markus Wimberger
A man receives a book about black magic from a stranger. He then tries to summon demonic powers. But you don't play with the powers of hell…
---
Lycan
Directed by Kayla Marriott
A women ventures into the woods during a full moon
---
The Death of an Aristocratic Family
Directed by Daniel Richardson
A detective struggles after witnessing a particularly gruesome crime scene. A horror take on the old Aristocrats joke.