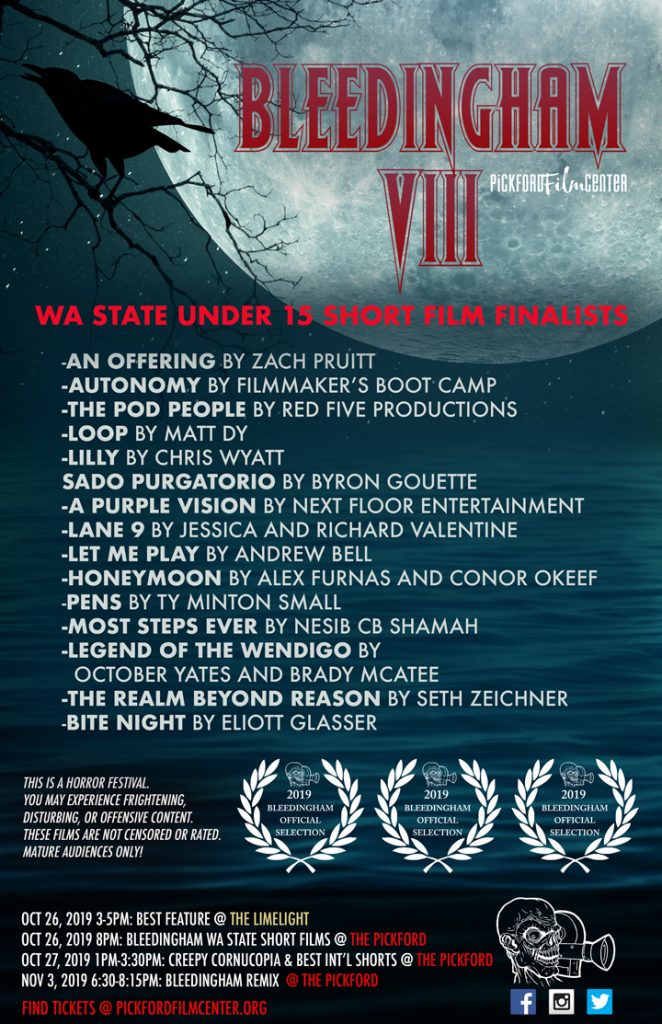 Howdy Filmmakers and Fright Fans!
This year's lineup of 2019 under 15 min short film finalists is mind staggering.
We can't wait to have you join us at the Pickford Film Center  October 26th at 8pm
for this amazing lineup and Award ceremony!
It's time to fill your heads with true spirit of Halloween with this celebration of local Macabre films!
---
An Offering by Zach Pruitt
Sarah and Joanne prepare to perform a ritual to bring Sarah's husband back from the dead.
But an ulterior motive is at play…
---
Autonomy by 2019 Filmmaker's Boot Camp
A young woman suspects her doctor has prescribed a cure for her insomnia that is beyond her worst nightmares.
---
The Pod People by Red Five Productions
After a night of drinking, a young man wakes up with a headache, a hangover, and rapidly spreading infection taking over his body.
---
Sado Purgatorio by Byron Gouette
In a post-apocalyptic world where men burn women due to superstitions, a woman uses her sensory abilities to track them down.
---
Loop by Matt Dy
Mayhem erupts in a quiet suburban neighborhood as the result of sinister influence.
Listen. Smile. Obey.
LOOP.
---
Lilly by Chris Wyatt
Lily is a seemingly normal little girl with one dark secret… a secret her new babysitter is going to discover.
---
A Purple Vision by Next Floor Entertainment
Ellie Campbell is a shy outcast, trying to fit in at a party. Her jealousy gets the best of her and a special elixir changes everyone's perspective of her, for better and… for terror.
---
Lane 9 by Jessica and Richard Valentine
On Halloween 1979, a small Midwest town is turned upside down after a transient evil takes up residence in Lane 9 of the local bowling alley.
---
Let Me Play by Andrew Bell
No Description
---
Honeymoon by Alex Furnas and Conor O Keef
Vincent and Camilla are newlyweds. Vincent, unburdened and newly wealthy, has pitched Camilla the possibility of a new life for both of them, and she's just optimistic enough – or gullible enough – to believe him.
They drive out to a lovely cabin in the woods for their honeymoon. But the past is creeping up on their peaceful getaway. A sinister apparition plagues Vincent's dreams and waking hours, chipping away at his sanity. 
---
Pens by Ty Minton Small
She asked if she could borrow his pen. Unfortunately, he said yes.
---
Most Steps Ever by Nesib CB Shamah
Out on a hike, a woman finds herself participating in an unexpected workout routine.
---
Legend Of the Wendigo by October Yates and Brady Mcatee
"Legend Of The Wendigo" follows a family in the 1890's, whose young son is kidnapped in the night by a cunning folkloric monster. With help from the local Sheriff, they round up a posse of townspeople to venture into the dark woods and track down the creature.
---
The Realm Beyond Reason by Seth Zeichner
Two teenage brothers find themselves in the middle of the woods on their first day of work at an isolated pizzeria, where things are not what they seem to be. They find themselves in the realm beyond reason.
---
Bite Night by Eliott Glasser
"Have you ever heard the story of the South Side Biter?" After listening to a friend tell an urban legend, a kid and their father struggle to make it through a sleepless night of dread and paranoia. A playful homage to vampire movies and bed time stories, Bite night is a film about what lurks in the shadows and haunts our dreams.