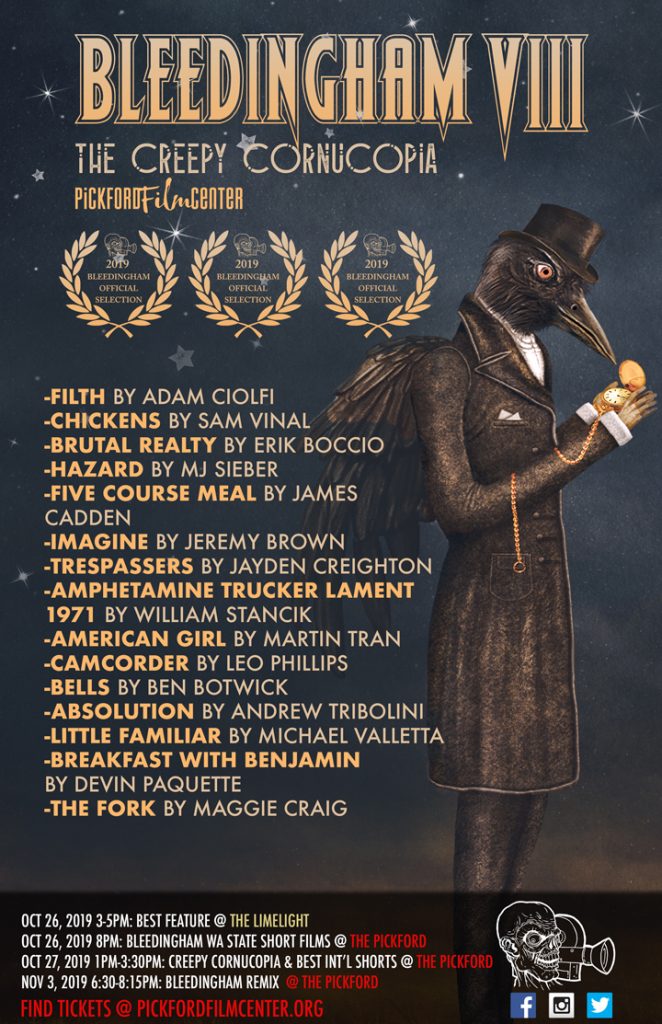 Welcome to the The Creepy Cornucopia!
This block of films features an official selection of local and out of state/ international films.
This year was a very competitive for the festival and we feel this amazing quality will reflect to our Cornucopia attendees!
So get yourself in the mood for tales of horror and clever dread,
as this selection will set the tone for your Halloween Festivities!
Tickets are available now and going fast!
The Creepy Cornucopia
---
The Fork by Maggie Craig
People who live in the country shouldn't name their animals. Sophie makes friends with her next meal then struggles with the ethics of her first slaughter.
---
Filth by Adam Ciolfi
Bloodied, bruised and left for dead a man will stop at nothing to exact gruesome revenge on those who wronged him. Aggressive, raw and unrelenting, director Adam Ciolfi will change the way you think about animation.
With 9 major awards and 16 nominations to date, FILTH is aggressively building its reputation on the film festival circuit.
---
Chickens by Sam Vinal
Two racist cops try to cover up killing an unarmed black teen. Things don't go as planned…
---
Brutal Realty by Erik Boccio
The Summoner is a heavy metal demon rocker, but that's just his day job. He works a 9 to 5 like every other average Joe (or in this case average ghoul). He's become a little disappointed with his direction in life.
He wants to be more than just a weapon wielded for evil and rock, and would like to focus on his true passion: flipping houses. But soon enough an attack from a vicious gang of realtors forces him to embrace his awesome powers of destruction, and gain the confidence to achieve his dreams.
---
Hazard by MJ Sieber
A group of young friends venture out to a remote, uninhabited island in the Northwest for one last hurrah. But there are unknown hazards in their way.
---
Five Course Meal by James Cadden
Mark and Jenny agree to take part in a mysterious experiment for money. Things get exceptionally messy.
Based on the short story by Josh Saltzman:
https://www.wattpad.com/86624898-strange-yarns-five-course-meal
---
Imagine by Jeremy brown
This award winning short takes you on a journey through the mind of a child and the terror his toys must face at the hands of his wicked imagination!
---
Trespassers by Jayden Creighton
Ben and Lucy are siblings who are travelling interstate to visit their parents. When their car breaks down on a desolate rural road, they are forced to seek help at a nearby farming estate.
Cut off from the outside world, they soon make a terrible discovery…
---
Amphetamine Trucker Lament 1971 by William Stancik
In 1971, a trucker remembers a woman with bruises on her knees.
---
American Girl by Martin Tran
When the time comes to put away childish things…
---
Camcorder by Leo Phillips
A lovely backpacking trip is not the couple's dream it seems when bloody love lurks around every bend.
---
Bells by Ben Botwick
A father learns the secret behind his son's strange nightly ritual.
---
Absolution by Andrew Tribolini
When a young priest is assigned to a dying parish he is forced to confront his own demons.
---
Little Familiar by Michael Valletta
A small mysterious girl is abducted by a pair of shadowy individuals with questionable motives. Their fate, however, becomes sealed as the young girl's grizzly guardian hunts them down in order to be back by her side.
---
Breakfast with Benjamin by Devin Paquette
A look into the mind of demented chef Benjamin Bates in his popular cooking shown as reality falls apart and shows what really is going on.