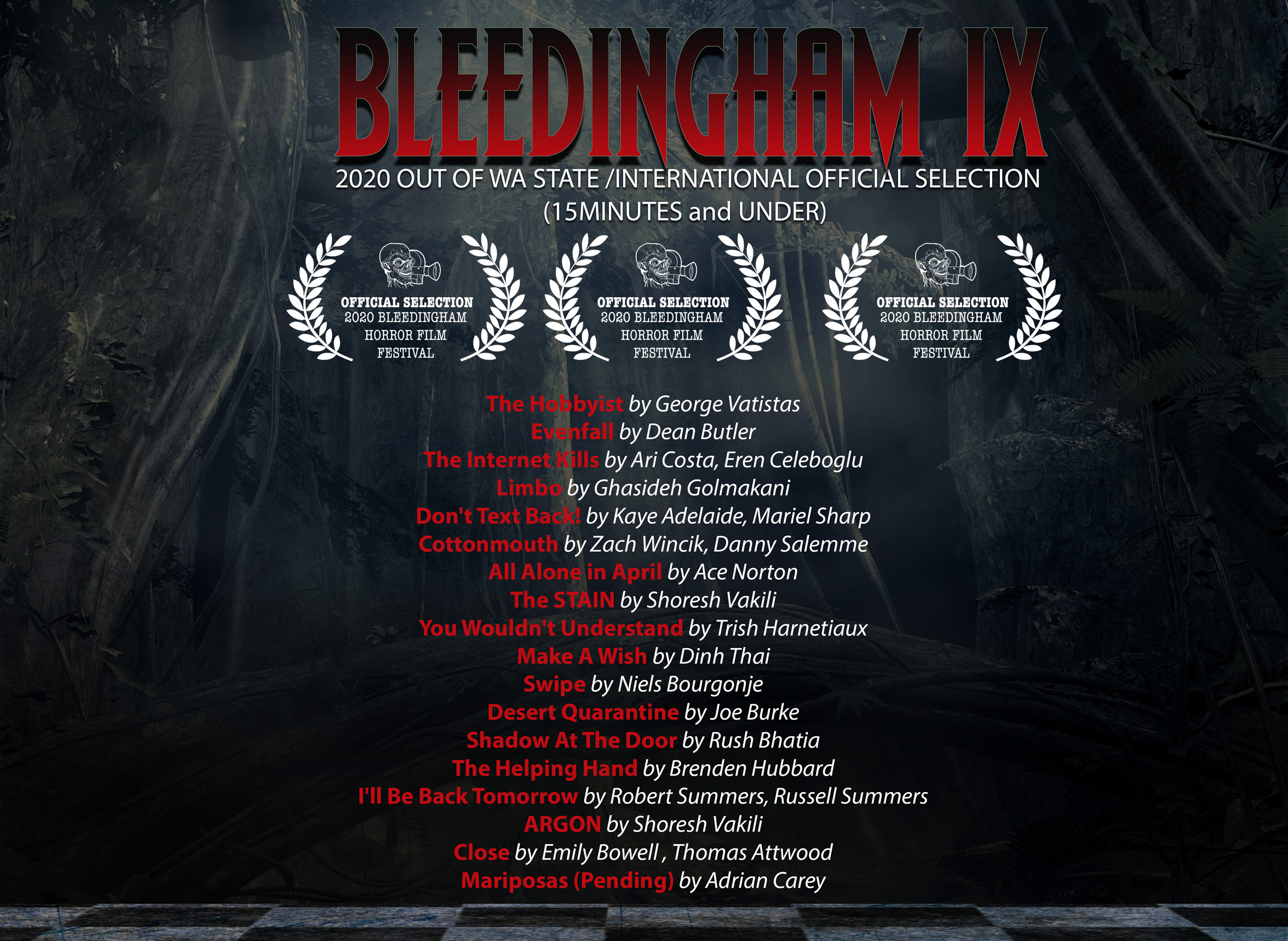 Bleedingham IX OFFICIAL SELECTION
International/Out of State Under 15:
Greetings Horror Fans and Filmmakers! Bleedingham is proud to present the 2020 Out of State/International Official selection! (15 minutes and under.)
These tales of terror will screen in the Pickford Film Center's Virtual Screening Room October 26th through  November 2nd.
Join us for  a week of some of the best new horror from across the United States and the entire global film community!
Bleedingham Screens October 26th and running through November 2nd, 2020!
OUT OF WA/INTERNATIONAL TICKETS HERE
CLICK HERE FOR FULL ACCESS PASS 
---

Swipe
Directed by: Niels Bourgonje
A girl finds out that she has a match on a dating app with a stranger, despite swiping him to the left moments ago. She starts to fear that the man is dangerously close to her.
---

Make A Wish
Directed by: Dinh Thai
A light-hearted comedy about the sweetest fiancé giving her boyfriend the best birthday present ever.
---

Close
Directed by: Emily Bowell , Thomas Attwood
A single mother has to regain her strength and courage to rescue her missing daughter after discovering she might be closer than expected…
---

ARGON
Directed by: Shoresh Vakili
In the city where the zombie attacked, several people are hiding in the garage when a zombie enters the garage …
---

Mariposas
Directed by: Adrian Carey
Set in a universe of magical realism, a boastful father prattles on superficially about his daughter to another parent in the school pick up line, but is unable to perceive her when it matters most.
---

The Hobbyist
Directed by: George Vatistas
A short neo-noire thriller centered around a mysterious druggist visited by Sangstrom, a seemingly ordinary man in search of an undetectable poison. Yet, Sangstrom winds up getting more than he bargained for from the sagacious alchemist.
---

Desert Quarantine
Directed by: Joe Burke
A man who is living in isolation, quarantined alone out in the desert during the current global pandemic, finds himself coming face to face with the virus, in what becomes a fight for his life to survive the night.
---

The Helping Hand
Directed by: Brenden Hubbard
From the Academy Award winning team behind Curfew, The Helping Hand explores the ties between technology and a growing family. With a new baby at home, young parents adopt a hitech monitoring system.
Will it be an answer to their woes or have they invited a monster into their home?
---

All Alone in April
Directed by: Ace Norton
A SILENT FILM ABOUT LOVE IN ISOLATION about a lonely widow quarantining alone as the apocalypse occurs outside her front window.
http://www.acenorton.com/
---

The Internet Kills
Directed by: Ari Costa, Eren Celeboglu
Euphoria meets The Ring.  When Victoria and her friends discover an app that kills you, they accidentally unleash something truly evil…
---

Limbo
Directed by: Ghasideh Golmakani
A former Iraqi sniper, took refuge in Iran and began to tattoo the names of all the soldiers he had killed in the conflicts and wars in Iraq.
The last name is tattooed with by a young Iranian, who is asked for an strange favor …
---

Shadow At The Door
Directed by: Roshni "Rush" Bhatia
In Roshni Bhatia's short film, Shadow at the Door, a troubled young woman searches for an intruder in her home unaware that what she's really looking for may be something she refuses to see.
---

Evenfall
Directed by: Dean Butler
A widower with supernatural abilities helps a local detective save her daughter from dark forces.
---

I'll Be Back Tomorrow
Directed by: Robert Summers, Russell Summers
Awoken in the middle of the night, a women and her partner discover eerie connections in the nightmare she just had, only to realize they might not be alone in their new house.
---

Cottonmouth
Directed by: Zach Wincik, Danny Salemme
A woman takes action once she is sure that someone, or something, is sneaking into her room at night.
---
Don't Text Back!
Directed by: Kaye Adelaide, Mariel Sharp
A woman seeks the help of an energy healer to rid herself of a cursed necklace that strangles her every time she doesn't text back her bad Tinder date.
http://truesweetheartfilms.com/
---
---
The STAIN
Directed by: Shoresh Vakili
The old man of the cinema salon cleaner after the release of the movie takes care of the stain on the screen ..
---

You Wouldn't Understand
Directed by: Trish Harnetiaux
An idyllic picnic of one is upended after the arrival of a stranger.
---