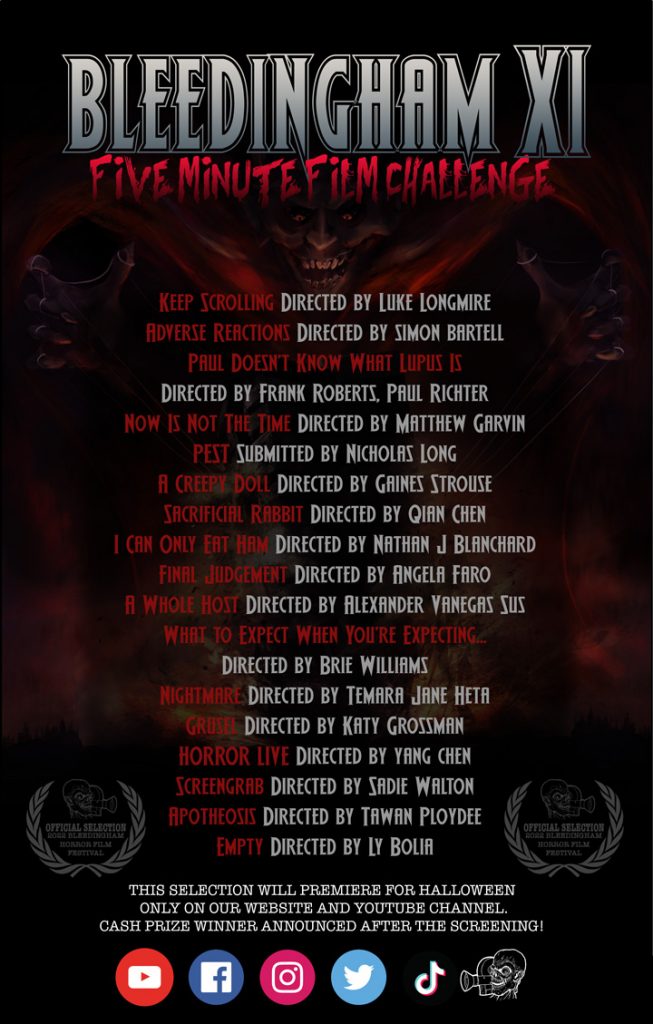 BLEEDINGHAMXI: The 5 min film challenge
Bleedingham presents the 5 minute film challenge! For your Halloween enjoyment, the 5 minute film challenge films will play for Halloween only on our youtube channel.
 Binge them all at once or throughout the night as you prepare for any Halloween plans or you can play them for your guests at your own Halloween party!
 Winner of the 5 minute film challenge gets a $200 prize and will be announced on our social media at 6pm on Halloween!
---
Keep Scrolling
Directed by
Luke Longmire
A young girl while on TikTok scrolls onto a haunted livestream.
Adverse Reactions
Directed by
simon bartell
A young lady gets an experimental vaccine.
Paul Doesn't Know What Lupus Is
Directed by
Frank Roberts, Paul Richter
Paul is really concerned for his friend Bronson, who's been recently diagnosed with Lupus.
Now Is Not The Time
Directed by
Matthew Garvin
A dark secret from the past puts a couples relationship to the test.
PEST
Submitted by
Nicholas Long
You wake up to the sound of knocking from inside of your closet.
A Creepy Doll
Directed by
Gaines Strouse
Strange things happen when a man buys a beautiful doll at a yard sale.
Sacrificial Rabbit
Directed by
Qian Chen
Sacrificial Rabbit is based on clues that gradually enter the trap, starting from a girl who is hypnotized after following a rabbit into a hole, trapped in a room for a series of killings that follow instructions. she was arranged to escape here, but chose to return.
I Can Only Eat Ham
Directed by
Nathan J Blanchard
She can only eat ham.
Final Judgement
Directed by
Angela Faro
A man of the cloth takes it upon himself to punish the wicked of the world until he is taught the error of his ways.
A Whole Host
Directed by
Alexander Vanegas Sus
Dashielle Dellamorte, horror host extraordinaire, invites us to explore the worst horror movie ever made… because, it's just a movie right?
What to Expect When You're Expecting…
Directed by
Brie Williams
A short horror film about the lengths some of us go to get pregnant.