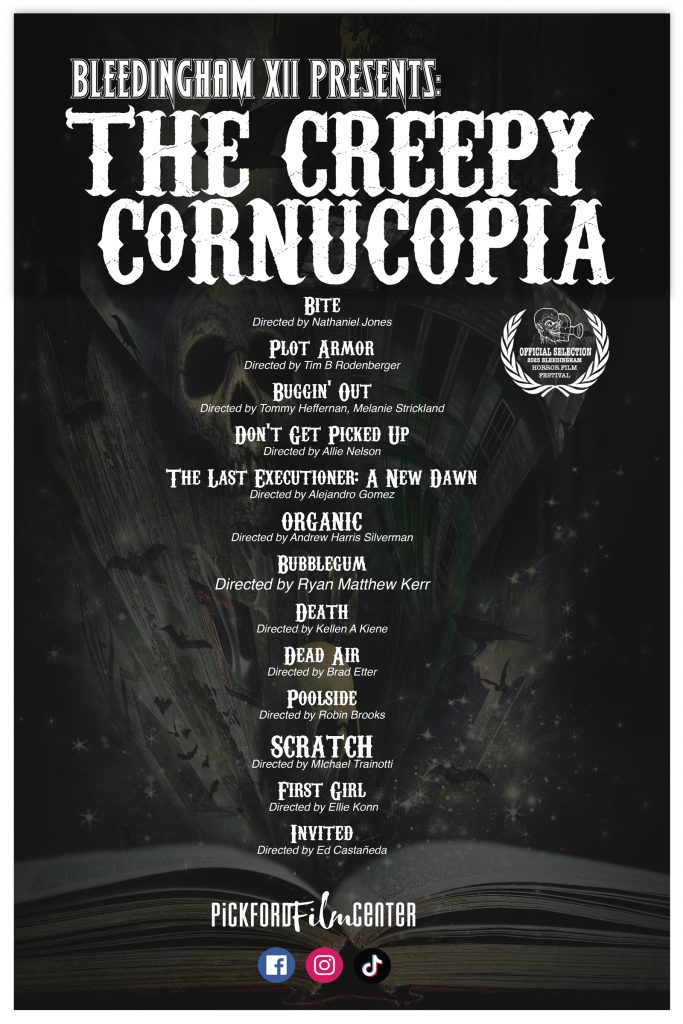 Expand your Halloween weekend fun with a delightfully dark and frightening mix of WA state and international horror short films, plus the best 15-30 minute shorts and audience prizes! Join us as we celebrate this eclectic mix of terror!
Disclaimer: We do not censor filmmakers. Some films may display nudity, extreme violence, gore, adult language, triggering or disturbing content.
These films are made by independent filmmakers and are not rated. Films are recommended for mature audiences only.
---
Bite
Directed by Nathaniel Jones
An unexpected way to become a vampire.
---
Buggin' Out
Directed by Tommy Heffernan, Melanie Strickland
When a cicada decides to make a home out of Alex's right eye socket during a hike, his older brother Terry turns to Youtube for a solution.
---
The Last Executioner: A New Dawn
Directed by Alejandro Gomez
This is the follow-up to the previous short film, The Last Sunrise: An Executioner's Story, where Kitten (Sophie Burns) is on a rampage to bring down the monsters that killed her mom, Gina (Elena Stecca).
As she reunites with her father, Simon (Alejandro Gomez), they learn of a new threat of vicious vampires.
---
ORGANIC
Directed by Andrew Harris Silverman
The story follows a disillusioned man on a quest for natural sustenance.
After a challenging journey, he discovers and consumes fresh berries, initially experiencing their incredible taste, only to be overwhelmed by a sudden sickness that triggers a profound shift in his perception.
He witnesses the environmental devastation caused by corporate greed, leading to a surreal encounter with what he interprets as a divine presence, prompting deep introspection about humanity's disconnection from nature.
This visually captivating film explores themes of environmental decay, corporate control, and the potential for transformative self-realization through a connection with the natural world.
---
Dead Air
Directed by Brad Etter
Shortly after receiving a vintage radio as a birthday gift from her husband, Julie begins to hear mysterious coded messages.
As she struggles to figure out the meaning – she also has to convince her dismissive husband Roger to believe the ominous warnings.
---
SCRATCH
Directed by MIchael Trainotti
A Father/Son weekend adventure becomes a terrifying fight for survival.
---
First Girl
Directed by Ellie Konn
First times are terrifying.
---
Invited
Directed by Ed Castañeda
A couple's strained relationship reaches a breaking point amidst a dinner at their neighbors and their dark secrets.
---
Bubblegum
Directed by Ryan Matthew Kerr
Strange happenings begin after buying an antique.
---
Death
Directed by Kellen A Kiene
4 friends are out hanging in the woods, but somethings lurking in the shadows… And no, it's not a deer.
---
Don't Get Picked Up
Directed by Allie Nelson
A woman doesn't pick up after her dog which angers the aliens.
---
Plot Armor
Directed by Tim B Rodenberger
Why do certain characters in horror films survive despite the odds being very much against them?
---
Poolside
Directed by Robin Brooks
A woman and her daughter's strained relationship is put to the test in an afternoon at the pool when some terrifying visitors arrive.